Page 3 - 24th OstLicht Photo Auction
P. 3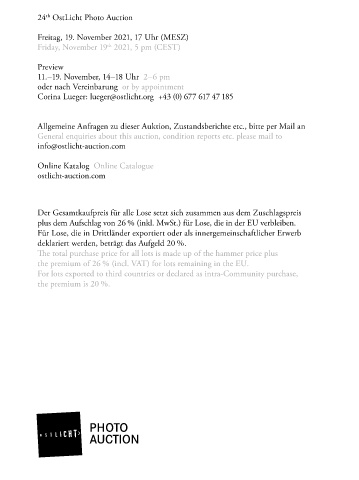 24  OstLicht Photo Auction
                th


             Freitag, 19. November 2021, 17 Uhr (MESZ)
             Friday, November 19  2021, 5 pm (CEST)
                                     th

             Preview
             11.–19. November, 14–18 Uhr  2–6 pm
             oder nach Vereinbarung  or by appointment
             Corina Lueger: lueger@ostlicht.org  +43 (0) 677 617 47 185




             Allgemeine Anfragen zu dieser Auktion, Zustandsberichte etc., bitte per Mail an
             General enquiries about this auction, condition reports etc. please mail to
             info@ostlicht-auction.com


             Online Katalog  Online Catalogue
             ostlicht-auction.com






             Der Gesamtkaufpreis für alle Lose setzt sich zusammen aus dem Zuschlagspreis
             plus dem Aufschlag von 26 % (inkl. MwSt.) für Lose, die in der EU verbleiben.
             Für Lose, die in Drittländer exportiert oder als innergemeinschaftlicher Erwerb
             deklariert werden, beträgt das Aufgeld 20 %.
             T e total purchase price for all lots is made up of the hammer price plus
             the premium of 26 % (incl. VAT) for lots remaining in the EU.

             For lots exported to third countries or declared as intra-Community purchase,
             the premium is 20 %.